Coding for Good: How Our Software Development is making a Positive Impact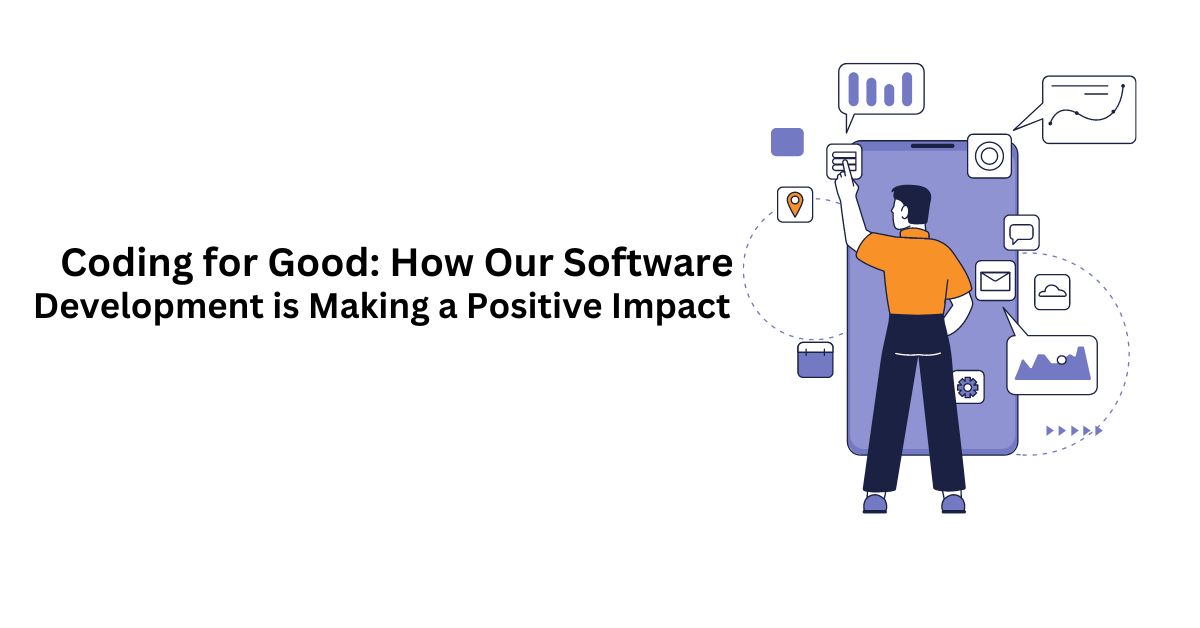 Reading Time:
4
minutes
In a world where technology is increasingly shaping our lives, it's refreshing to see software developers using their skills for good. From creating apps that help people with disabilities to develop software that empowers communities and promotes sustainability, there's no limit to what coding can achieve when it's put towards positive change. In this blog post, we'll take a closer look at how our team of developers is using their expertise for the greater good and making a lasting impact on the world around us.
Introduction of Good Coding for Software Development
As a software development company, we often get asked what we do to give back or how our work makes a positive impact. We believe in using our skills for good, so we've developed programs and initiatives that make a real difference in people's lives.
One way we give back is through our Coding for Good program. This program pairs our developers with non-profit organizations to create custom software solutions that help these groups achieve their missions. We've worked with organizations like the World Food Program and UNICEF to develop software that helps them distribute food aid more efficiently and track data more effectively.
Our Coding program is just one example of how we use our skills and expertise to impact the world positively. We're also committed to making our products and services accessible to everyone, regardless of economic circumstances. That's why we offer Website designing services discounted memberships to non-profit organizations, and special pricing for low-income individuals and families.
We believe everyone should have access to the power of technology, so we work hard to ensure our products and services are accessible to all. So whether you're using our products to make a difference in your life or someone else's, know that you're part of something.
Benefits: 
There are many reasons why using program design for Social Good is a great idea. For one, it can help you build important skills and knowledge that can be applied in the real world. In addition, coding for good can also help you make a positive impact on society.
Helping others: One of the best things about programing for good is that you get to help people who may not be able to help themselves. You can make a difference in their lives by developing software that solves problems or makes life easier.
Making a difference: Besides helping others, you can make a difference. Creating software that helps solve global issues like climate change or poverty can profoundly impact the world.
Learning new things: Coding for Good is also a great way to learn new things. By working on projects focused on social goods, you can learn about new technologies and approaches you can use in your work.
Boosting your career: Working on socially beneficial projects can also boost your career. Many employers are looking for employees who have experience working on socially responsible projects, so programming for good can help you stand out from the crowd when applying for jobs
Examples of Projects Developed
The software development projects we've undertaken have positively impacted many different areas of society. Here are some examples:
– We developed a mobile app for a local food bank that helps them keep track of inventory and donations.
– Building a website for a non-profit that helps connect people in need with volunteers who can offer assistance.
– Also we created an online platform for a mentorship program that helps young people learn from successful professionals in their field.
Each of these projects has made a real difference in the lives of those who use them. We're proud to be able to use our skills and knowledge to help make the world a better place.
Benefits of Partnering with Us to Achieve Your Goals
We believe in doing good while achieving great client results regarding software programming. That's why we're excited to share how our coding positively impacts the world.
Partnering with us has numerous benefits that can help you achieve your goals, including:
Having access to our talented and knowledgeable developers
The ability to leverage our cutting-edge technology stack
A dedication to customer satisfaction and quality
Our goal is to help you not only achieve your desired outcome but also make a positive impact on your project. Learn more about how we can support you achieve your targets.
Challenges in Software Development for Social Good
Despite the clear benefits of using technology for social good. many challenges must be addressed to make this happen on a large scale. One of the biggest challenges is the need for more skilled personnel. In many developing countries, there is a need for more people with the necessary skills to develop software. Another challenge is the high cost of developing and maintaining software. It can be a barrier for organizations working in areas with limited resources.
Additionally, Web design and development services donate their time and skills to work on projects. That may have a short-term impact and can take time and effort.
One way to overcome these challenges is by focusing on capacity building. It means training people in the necessary skills so they can develop software themselves. Organizations can also incentivize people to donate their time and skills, such as offering volunteer opportunities or providing recognition for their contributions. By addressing these challenges, we can ensure that more people have access to the benefits of technology for social good.
Conclusion
Coding for good is an inspiring example of how a software development agency can be used to make a positive impact in the world. From tackling climate change and poverty to making health care more accessible and efficient. Coding has been instrumental in providing solutions to real-world problems. We are proud of our team's commitment to using technology as a force for good, and we look forward to continuing this important work into the future and being the best web design company.
Published: May 11th, 2023