Innovative Strategies for Digital Transformation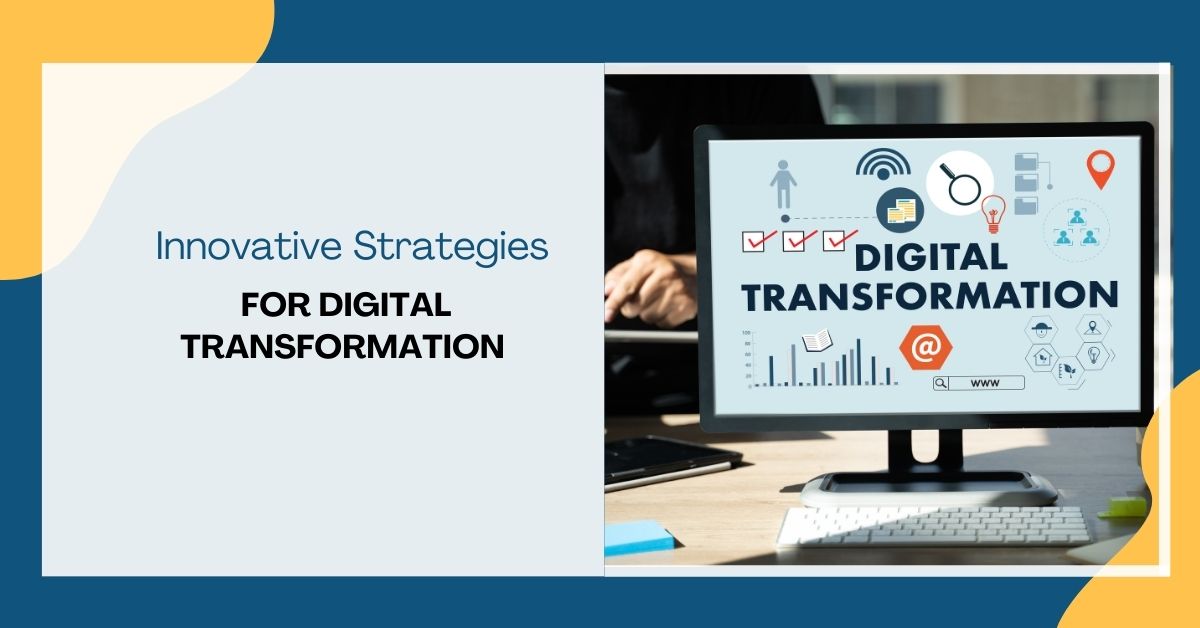 Reading Time:
4
minutes
Digital transformation companies are the implementing ongoing transformation process due to the modernization of digital technology.
It is a term that has been increasingly used in various industries and refers to embedding digital technology into an organization's business. It leads to enhanced capabilities and operational efficiencies.
For an organization to succeed in the digital transformation age, it needs more than just a great idea or product; it needs an adaptive strategy that can quickly adjust as new market realities unfold. This article provides suggestions for developing such an adaptive strategy.
It is happening, and all the old business ways will soon be obsolete. This post discusses the best strategies for developing new techniques to stay competitive in a rapidly moving industry.
The emergence of artificial intelligence, robotics, and automation has dramatically changed what employees are asked to do. If you want your business to survive and thrive in this new era, it's time for a digital transformation.
Digital business transformation may look like a single step. In fact it's a six-step process: study, design, develop, deploy, manage and scale.
The Digital Transformation companies Process levels
Planning and strategy, business model implementation, digital marketing and sales, data integration and analytics, and technology implementation. Organizations can further organize these levels into three phases of "digital change": the "Uncertainty Phase", the "Exploration Phase," and the "Innovation Phase". Organizations can effectively adjust their strategies by recognizing where their organizations are in this digital change process. Generally, digital transformation companies should move from a position of uncertainty to a position of exploration before transitioning into a mode of innovation. However, this is not always easy or possible to do.
The "Uncertainty Phase" refers to an organization's initial introduction to it. This phase is also characterized by uncertainty about the future of the business and how digital technology may impact it. Organizations in this phase usually have little experience adapting to a new business environment. They often struggle to understand how to use technology effectively and how this technology can leverage existing data.
New products and services are often used experimentally without clearly understanding whether they will become part of the overall business strategy. The dominant mentality during this phase is rapid experimentation. With a wide variety of new technologies, processes, strategies and tactics, emphasizing learning from these experiments as quickly as possible.
Growth with Trusted Digital Transformation Companies
In this phase, organizations must focus on three "P"s: partner, prototype and prioritize. Partnerships with other companies or individuals with experience in the transition process can be particularly useful when they can provide insight into the unknown. As products and services are deployed, prototypes should validate what works and what doesn't. Finally, organizations should emphasize early learning and set priorities based on business impact.
By nature, a digital transformation companies disrupts existing business processes and operating models. It leads to many experiments that can take time away from the core tasks of an organization as it tries to establish its place in the market as an innovator.
Innovative strategies are key to managing it because they help people and organizations quickly make changes in a complex world. Change, after all, is constant–and it's happening faster than ever.
A good strategy can help you create new capacities to get where you're going without leaving important pieces behind.
The few innovative strategies for it. Including how to adjust your messaging, experiment and invest in leadership development across the enterprise, turn culture into a competitive advantage, and other ideas for innovation in your organization.
Strategies for  Digital Transformation Companies
1. Patterns of Change
To help business and IT software development leaders navigate changes. We offer a five-part framework for understanding the patterns change in the complex age. The framework covers trends, business processes, technology and people, whether you aim to adopt new technologies or transform your customers' experience with your products.
2. Moving Fast
Every day, we drive right by broken places–and no one has time to fix them. These things can be anything from a streetlight that doesn't work when it's raining to a car that won't start when it's cold outside. But the key to keeping your company or product on track is not to let these things break your business–instead, you need to move fast. That's because the rate at which technology is evolving is so fast that you can't afford to wait.
As companies compete to provide our products and services, they are moving fast and constantly experimenting with new ways of doing things.
Ensure that organizations complete all the tasks of Digital Transformation and innovation implementation effectively.
Why Leadership Development May Be More Important Than You Think
It can be a challenging process for any enterprise to undertake, and it requires leaders at every level to take charge of the change process and ensure success.
Get Your Team behind the Digital Revolution
It demands cooperation and commitment, but this isn't always easy to achieve. Leaders at each level must help bridge the cultural divide between IT and the rest of the business.
Be an Agent of Change
Executives want ideas that can help their organizations succeed in a digital world, but they're often skeptical about them for a good reason. Many digital ideas fail to deliver on their promise, and even those that succeed don't do so on schedule or within budget.
Think in Digital
Organizations that succeed, have learned to think digital–that is, to think about every aspect of their business through a digital lens. To learn more, go through digital transformation services.
Transform the Way You Lead and Manage
Transformation involves people and organizations at every level in the organization. One of those people is you–the executive leading the charge into a digitally oriented future.
Conclusion:
Given ways for companies can use technology as a core component of their business strategy. Whether you are just starting with it or endeavoring to go after global markets. Hope the strategies given are valuable on leveraging technologies like artificial intelligence and machine learning.
Published: May 19th, 2023