Shape Your Digital Dreams with Our UI UX Designing Services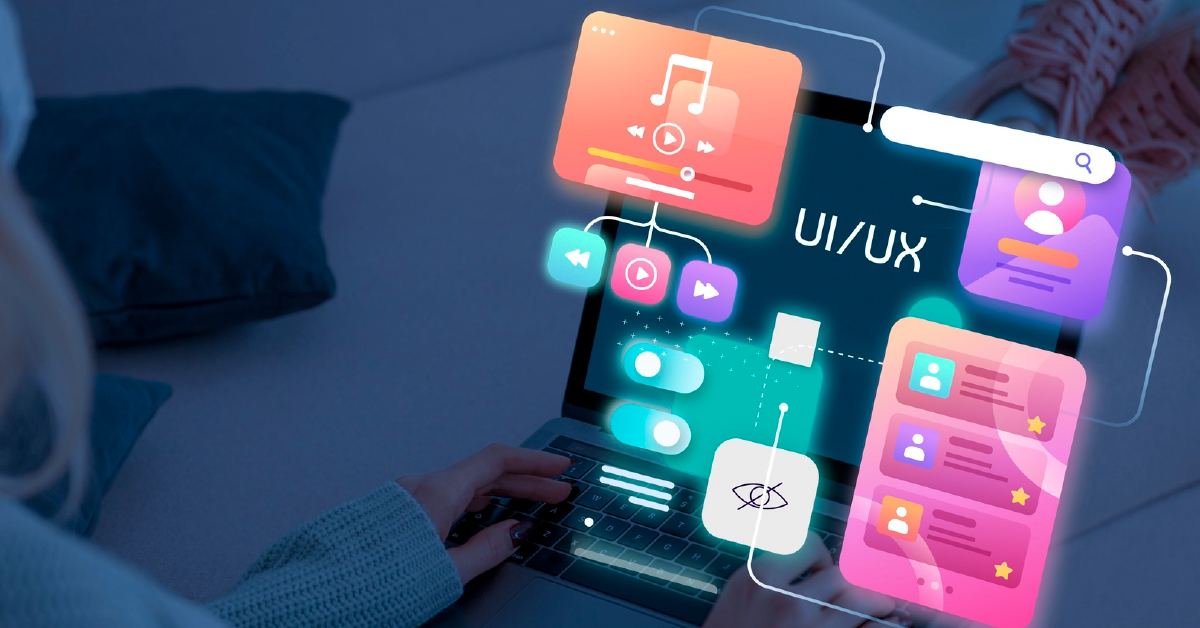 Reading Time: 4 minutes
Our Complete Manual for UI UX Designing Services
It is difficult to maintain a strong brand value and top consumer base in the intense marketing competition. When you use a strong UI UX designing services for maintaining good website then every single customer will be interested towards our website.  The success of an internet business is constantly dependent on a number of variables, including quality, customer satisfaction, and brand identification. User experience is one of the most important things you should never disregard among them. You will have a chance to draw in more users and increase sales when an application or website is more user-friendly and responsive.
With the implementation of professional UI/UX design, you can work on well-crafted marketing strategies, provide enticing content, and design an appealing user interface. You can also use it to improve the functionality and usability of a website or application.
What is UI Design?
The user interface and the graphical layout are the subjects of UI (User Interface) design. The phrase "Graphical User Interface" or GUI is frequently used to designate front-end design, which emphasizes on the aesthetic delights for the eye. When dealing with a website, users navigate via the GUI, which is a collection of graphical elements. This is among its components:
Images, fonts, Colors, shapes, sizes, typography, borders, etc.
Radio buttons, check boxes, toggles, Input controls
Text/message boxes, progress bars
What is UX Design?
User experience (UX) design entails figuring out how users will interact with the programme. The app's organization, operation, structure, and interplay of its various components are all within the control of the UX designers. Giving the user a positive app experience is the UX designer's ultimate goal.
UI UX Designing Services For Web Design And App Design
The terms UX and UI design are used interchangeably so frequently. UI and UX are two concepts that are frequently used when discussing web design and app design. Despite the fact that these phrases are frequently used interchangeably, they refer to two distinct but related styles of software design.
Requirements and The Expectations
A thorough grasp of user demands is necessary for user interface design. It primarily focuses on the platform's requirements and the expectations of its users. The user interface design process involves various stages and steps, some of which are more important than others depending on the project.
Methods Applied In UI UX Designing Services
The process of creating a corporate website is always different from the process of developing an app. Different projects require different design techniques. Below, we've outlined few fundamental UI/UX design steps.
Research and Analysis
To correctly begin a UX approach, experts must collect, analyze, and define the requirements in order to comprehend the demands and preferences of their users. To facilitate the design process, they do four different types of research at this point.
Experts analyze the market through user research to ascertain consumer behavior and needs.
In order to differentiate products and segment the market, market research helps analyze the target market.
Experts can identify their competitors and assess their strengths and weaknesses through competitive research analysis.
Experts can analyze insights and information from the current products to ascertain user behavior through product research.
Idea and concept Presentation
Information architecture (IA) and Concept presentation are all about organizing the material of a website or application to enable users to efficiently complete activities. It's perfect for showing how each page of a website or application is related to other pages and vice versa. Professional designers give a project idea that illustrates the goals, fundamental functions, and scopes of the project by creating information architecture and identifying essential characteristics of the project.
Wireframe Layout
The interface components that will be present on the website pages are shown in a wireframe layout. The process of UI/UX wire framing serves as a basic framework that provides a condensed description of the finished result.
Functional UI UX Designing Services For an Application
After the wireframes are finished, specialists begin constructing a website's or an application's functional UI/UX. They create and distribute design requirements in this step, including rules, ideologies, colors, font and iconography. Additionally, they transform the wireframes and preliminary mockups into stunning graphics by applying gorgeous styles and themes to them.
Testing Phase
The testing phase is a vital stage in the creation of UI/UX designs since it enables professionals to determine with clarity whether or not the final design is usable by users. The testing phase often starts when the high-fidelity design is nearly complete. Testing with a high-fidelity UX/UX design gets accurate user feedback.
Using UI UX Design Services, What Can We Create?
Wireframes
High-Fidelity Prototype
Mobile & Web UI Design
Cross-Platform Compatibility
Technical Design
Software Redesign
Benefits of UI UX Designing Services
Our UI/UX services can increases the degree to which users are satisfied when using the web platform. High conversion rates, more revenue, and a seamless business process are the results. The following few benefits of implementing UI/UX design services.
Customer Engagement and Keep Them Coming Back for More
An excellent user experience gives you a competitive advantage in attracting and keeping more customers. An attractive website or app can turn a visitor into a potential client. Therefore, you may quickly increase client loyalty and trust by using an appropriate UI design service.
The Power of User Engagement: Uncover Valuable Insights and Boost Your Business
You can create a completely experimental environment for all customers to interact with the services by improving the user experience of the web platform. Additionally, depending on the interaction insights, you may correctly gauge performance and direct the expansion of the online business.
Cutting Costs and Minimizing Troubleshooting and Associated Expenses
According to reports, an enterprise's budget is spent more than 50% on resolving simple mistakes. The creation of the online platform's user interface should be done effectively thanks to UI and UX designs, which will save future complexity and headaches.
With a Rise in Conversion Rates
Our customers or clients are more likely to use platform again to make purchases when it has a pleasing UI/UX design.
Decrease development Time and Slash Expenses in the Project
Before they begin developing, UI and UX professionals anticipate and concentrate on all user requirements and make sure that your site's final design is flexible and scalable as well. You'll conserve resources, time, and money by implementing a wholly user-focused UI/UX design strategy.
Grater Performance
Users always favor navigation that is quick and reliable. However, poor performance will give visitors a depressing image, which will increase bounce rates. UI UX design service providers makes your project function lot more smoothly and productively in the long run.
Published: June 29th, 2023