How Our UI UX Design Company Transforms Experiences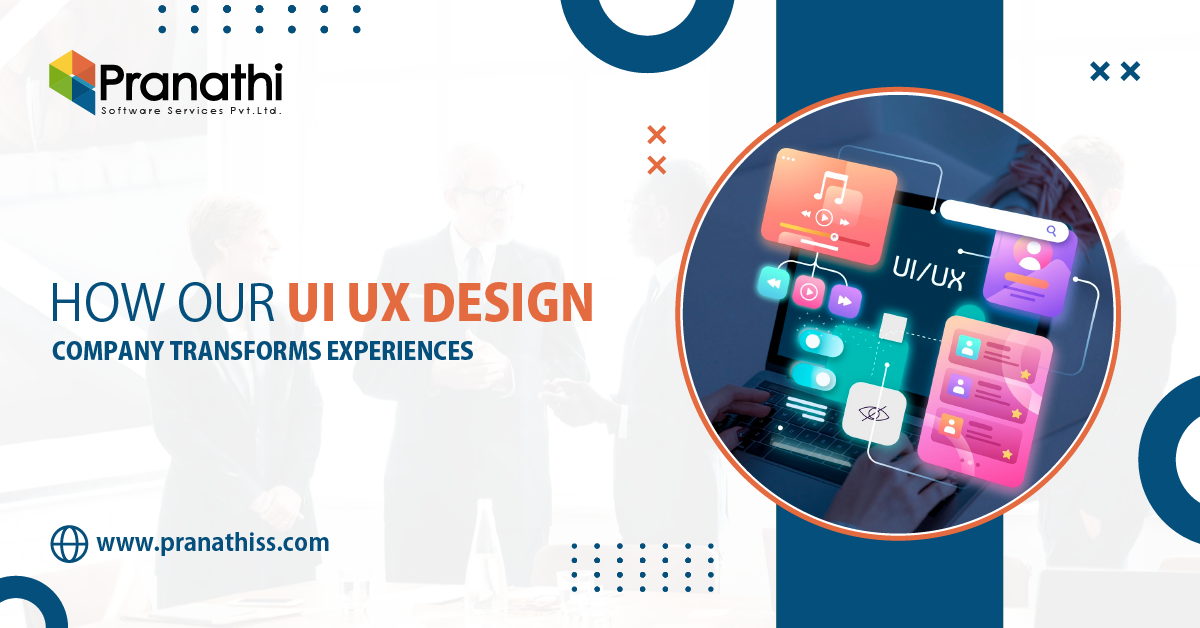 Reading Time: 4 minutes
Introduction
It is impossible to exaggerate the significance of a well-designed and user-friendly interface in today's digitally driven world. Where user experience (UX) and user interface (UI) are crucial factors in deciding the success of any digital product.
Our UI/UX design firm understands the importance of transforming experiences through careful design. In this blog, we'll look at how our company generates unforgettable user experiences by bringing magic to UI and UX.
UI UX Design Company- Recognizing the User Needs
Every successful UI/UX design is built on the foundation of understanding the needs and expectations of the end users. Through customer interviews, surveys, and competitor analyses, we begin the design process with extensive research. Understanding the users' perspectives gives us important insights that enable us to pinpoint their problems, preferences, and goals.
To ensure that every design choice is deliberate and user-centered, the UI UX design company works directly with clients to match their business objectives with user expectations. Web design companies can create intuitive and seamless experiences that users will enjoy if we thoroughly grasp the target audience's motivations and behaviors.
Using Simple and Intuitive Design Principles
Simplicity and intuitiveness are crucial in today's environment of constant distractions. Our UI UX design company is committed to removing superfluous complexity, lightening the cognitive load, and guiding people smoothly through the digital journey. We prioritize simple visuals that effectively convey information while maintaining a pleasing aesthetic.
Wireframes, interactive prototypes, and iterative design techniques hone the user experience and ensure every interaction is fluid and obvious. Users can traverse fluidly and efficiently accomplish their goals because of our designers' careful attention to details like navigation, information hierarchy, and visual cues.
UI UX Design Company Aims Visual Appeal and Brand Rationality
Aesthetics greatly influence user experiences as well as usefulness and functionality. For visually appealing interfaces that complement the client's brand identity, our UI/UX design agency mixes form and function.
Continuous Testing and Iteration
We believe in the power of testing and iteration to hone and enhance our designs, as the UI/UX design field constantly changes. We carry out thorough usability testing and collect user feedback following the initial design execution to pinpoint areas that require improvement.
Essential insights into how consumers interact with the product using user feedback and analytics data. With this iterative process, we can refine the design, address any usability concerns, and continually improve the user experience. Iteration and testing continuously
Basically one can learn much about how users utilize the product by combining user input with analytics data. This iterative process allows us to refine the design, address usability concerns, and continually improve the user experience. UI/UX modernization is essential for the coming digital transformation.
UI UX Design Agency
A decent user interface (UI) and user experience (UX) in an application provide the users with full power and guide them in making the best decisions. Text, boxes, graphics, and drop-down menus are among the visual components of the UI.
Eventually to make the online application's navigation and accessibility easier, the UX incorporates an intuitive organization of these components. Visual user interfaces draw users in, but a strong user experience keeps them interested and encourages them to return.
UI/UX modernization has emerged as a crucial step in the transformation process as businesses and customers become more digitally oriented. Businesses must be ahead of the curve and ensure their apps are updated per the most recent web and mobile app design trends to stay on top of rapidly evolving user experience trends. In this blog, we'll look at a few. Organizations need to be aware of UI/UX modernization trends to position themselves for the future.
Why Does Your Business Need to Modernize Its UI and UX?
Building corporate applications is difficult and packed with features and capabilities. Understanding user insights requires knowledge, which is needed to simplify the user journey. It makes creating a user-friendly interface easier, delighting customers and increasing engagement and productivity.
UI/UX Improvements Have The Following Major Advantages:
UI/UX has more objectives than just making your website design and mobile app seem smart and attractive; one is boosting sales. They persuade potential customers to buy your products or services by guiding them through the purchasing process.
Customer Satisfaction:
A great UI design has easy-to-use controls that are transparent and intuitive. A strong app architecture has intuitive navigation and engaging content to keep users interested and boost customer satisfaction.
Customer Retention:
Customers may continue to use a product if the user interface is simple to use, quick to load, and visually appealing. One of the best strategies to boost sales and keep consumers happy is to retain as many loyal customers as possible.
Simplified User Experience:
Customers can better decide which products to buy when the user experience is simplified. Today's users need a quicker response, and an intuitive and user-centric UI/UX makes upgrading to the UI/UX beneficial.
Offers Consistency:
Generally user experience and usability go beyond being simple components. By using icons, colors, font sizes, and font styles, UX and UI add consistency to the solution.
Increased Traffic:
A user decides in seconds whether to stay on a web page or an app page. Nothing can stop users from becoming devoted customers if a product has a beautiful design and a great user experience. Accordingly both customer acquisition and client retention are aided by it.  To retain compliance with evolving user interests and technology, the UI/UX web design cost can be optimized. To achieve business purposes and solve user concerns, cost-optimization of UI/UX is essential.
Conclusion
Accordingly in today's competitive digital landscape, providing ground-breaking user experiences is necessary. Our UI UX design company is dedicated to making user interfaces that are intuitive, beautiful, and smooth and create a positive impression on users.
Through user-centered design, attention to detail, continuous iteration, and collaboration, we seek to change experiences and assist digitally thriving businesses. By exceeding your client's expectations, UI/UX modernization helps accelerate company growth.
PSS recognizes the significance of usability, design, and accessibility in creating successful products. Our team of visual specialists provides cutting-edge UI/UX modernization services. Eventually PSS enables you to create products that are so tempting that they turn consumers into brand promoters and boost engagement.
Try our UI UX website development company, and let us take your digital products to new heights. We can create amazing experiences that captivate users and yield quantifiable outcomes. Get start right away with UI UX modernization.
Published: June 26th, 2023